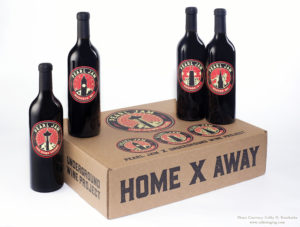 The Underground Wine Project, along with our parent wineries, Mark Ryan Winery and Sleight of Hand Cellars, are extremely proud to announce our partnership with Pearl Jam and the Vitalogy Foundation for the upcoming Home Shows in Seattle on August 8 and 10th, 2018. If you have ever visited either Sleight of Hand's or Mark Ryan's tasting rooms, you will know that both Trey and Mark are lifelong Pearl Jam fans by the numerous concert posters and memorabilia that adorn the walls of each space. Their love of Pearl Jam doesn't just stop at the music, however. The philanthropic spirit of Pearl Jam has filtered down to the fans by the millions, and we are fortunate enough to be part of that group.
The Underground Wine Project, in collaboration with Pearl Jam and the Vitalogy Foundation, is offering a VERY limited quantity of specially designed box sets of our cult wine, Idle Hands, and titled "Home x Away". Included in this box set are 4 bottles of wine, each with a different label designed by the team at Pearl Jam. The wine is packaged in a custom printed box. Only 450 box sets are being produced. Pricing for this box set is $150.00. Customers are limited to 1 box set per person. These will begin shipping in mid-September based on weather (we want to ensure that the wine that we send you is not compromised by heat). You must be 21 years old or older to purchase, and these will require an adult signature upon receipt.
The Underground Wine Project will be donating 100% of the proceeds from the sale of these box sets to The Home Shows, a program of Pearl Jam's Vitalogy Foundation, and their commitment to helping find a solution for the homelessness issue that King County faces. See Pearl Jam's statement about The Home Shows below.
The Home Shows will be our first Seattle concerts in 5 years. 
Most of us grew up here. Over the past 28 years, the City of Seattle's population has grown by 40%. The region's homelessness population is now the third largest in the country, with over 12,000 people living without shelter on any one night. This is not a number to be proud of. 
These shows are about shining a spotlight on the problem and solutions to homelessness in our hometown and joining a growing list of businesses, individuals, government agencies, and foundations who are collaborating to tackle the biggest public health crisis to hit our community in recent history. 
Band together with us by donating, volunteering, and getting more informed! 
We want to do our part as well. Mark grew up in Seattle and still calls it home. Trey moved to Seattle in 1992 from Athens, GA, chasing his favorite band, and has lived in the PNW ever since. We have seen this city change in such a dramatic way in the past 26 years, mostly for the better. But certainly, that growth has presented its challenges, and homelessness is at the top of the list. We applaud Pearl Jam, and the Vitalogy Foundation, for working to find a solution to this issue that affects us all. Seattle is still our home. And for Pearl Jam fans, it's your home, too. Thank you for supporting such a noble cause.
Trey Busch and Mark McNeilly – The Underground Wine Project
*IMPORTANT: Please note that we CANNOT ship to the following states due to alcohol shipping laws.
CT, DE, KY, MD, MS, NH, OK, RI, SD, UT (write your congressmen if you want to see these laws changed!). No International shipping. US Only.
Also, you must be 21 years old or older to purchase this item. Adult Signature will be required by shipping company.
Shipping of this box set will be based on weather and will not begin until mid-September. If you have any questions about your shipment, please email Trey@sofhcellars.com and cc contact@theundergroundwineproject.com